Nickel Alloy Tube Manufacturer & Exporter
Most Prominent Dealers & Exporters of ASTM B161 Nickel Alloy Tube, Nickel Alloy Seamless Tube, Nickel Alloy Tubing, Nickel Alloy Welded Tubes, Nickel Alloy Instrumentation Tube, Nickel Alloy High-Pressure Tube in Mumbai, India
Nickel Alloy Heat Exchanger Tube, Nickel Alloy Hot Rolled Tubes Supplier, ASME SB622 Nickel Alloy ERW Tube, Nickel Alloy EFW Tubes Stockists, Nickel Alloy Cold Rolled Tubing, Nickel 200 Tubes. Nickel Alloy Hot Finished Tubes, Nickel Alloy Square Tubes Provider
Superior grade, tested and reliable Nickel Alloy Tubes of all kinds are available at Leoscor Alloys, one of the leading Stockists and exporters in this industry. Whether you want round or square shape, plain or beveled end, seamless or welded, we have it here at competitive prices. Our Nickel Alloy Tubing is a perfect fit for applications where high surface ability, high-stress endurance, and impressive corrosion resistance is important. Our extensive inventory of nickel tubes available grades like Nickel 200, Nickel 201 etc.
Our Nickel Alloy Welded Tubes provide amazing resistance to a number of acids including hydrochloric acid, sulphuric acid, and phosphoric acid. They are also good in environments where resistance to alkaline solutions is required.
The characteristic composition of our Nickel Alloy Seamless Tubes gives them oxidation resisting capabilities, high melting point, and the capacity to achieve higher metallurgical stability. Tubing made from our nickel alloys are a fine option for the nuclear industry requirement of steam generator tubing. They are also ideal for heat exchangers. Nickel Alloy ERW Tubes and Nickel Alloy EFW Tubes made from the choicest raw materials are also available here. Do send us a query to get a free quote for our nickel alloy tubes.
ASTM B161 Nickel Alloy Tube Stockholder, Nickel 200 Tubing, Nickel Alloy Cold Drawn Tubes Exporter, Nickel Alloy Hexagonal Tube, ASTM A691 Nickel Alloy Cold Finished Tubes, ASME SB161 Nickel Alloy Round Tube, Nickel Alloy Rectangular Tube Wholesaler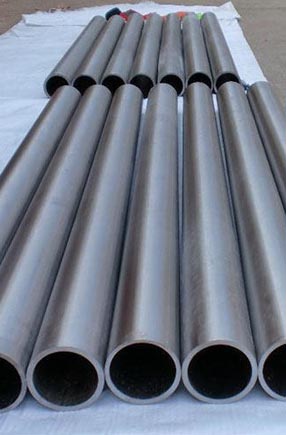 OUR RANGE OF NICKEL ALLOY TUBES