Carbon Steel Pipes Manufacturer & Exporter
Best Dealers & Exporters of ASTM A53 Carbon Steel Seamless Pipe, Carbon Steel Welded Pipe, CS Electropolished Pipes, ASTM A333 Carbon Steel Pipes, CS A106 Pipes Supplier, Carbon Steel High Pressure Pipes in Mumbai, India
ASTM A106 CS Pipe Supplier, Carbon Steel ERW Pipes, CS EFW Pipe Exporter, Carbon Steel Hot Rolled Pipes, Carbon Steel Hollow Pipe Stockists, Carbon Steel A333 Rectangular Pipes, Carbon Steel Cold Rolled Pipes, Carbon Steel Hexagonal Pipes Provider
Leoscor Alloys carries a complete inventory of variously sized quality Carbon Steel Pipes. Headquartered in Mumbai, India, we are leading Stockists and distributors of industrial grade alloy and steel products. Our Carbon Steel Seamless Pipes are appreciated for their high tensile strength, good corrosion resistance, and precise dimensions. We deliver them safely and securely in India as well as across the globe.
Our popular grade A105 Carbon Steel Pipes represent a common flange standard for forged material. These pipes are ideal for vital engineering applications involving heat treatments. Their use includes but is not limited to the petrochemical and automobile industries, cement plants and refineries. To meet the different requirements of customers, we offer them in a variety of shapes including round, oval, rectangular and square.
Our Carbon Steel Welded Pipes pass through a stringent quality check before they are readied for sale. They are characterized by amazing pressure resistance, thermal stability, and unblemished finish. The carbon content does not exceed 2.1 percent by weight. Our Carbon Steel ERW Pipes and Carbon Steel EFW Pipes are manufactured using state-of-the-art technology and are available in different lengths and wall thicknesses.
For any product or price query pertaining to our Carbon Steel Pipes, please do give us a call.
A106 CS Welded Pipe, Carbon Steel Custom Pipe, ASME A53 Carbon Steel Cold Drawn Pipe Exporter, Carbon Steel Square Pipe, CS Pipes, ASTM A333 CS Round Pipes, Carbon Steel Rectangular Pipe Manufacturer, Stockholders in India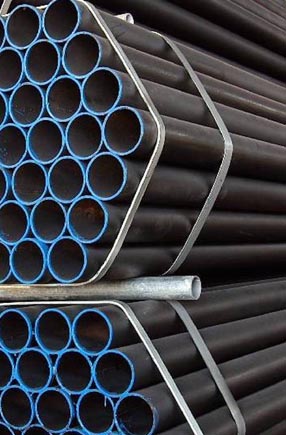 OUR RANGE OF CARBON STEEL PIPES