Nickel Alloy Pipes Manufacturer & Exporter
Leading Dealers & Exporters of ASTM B161 Nickel Alloy Pipes, Nickel Alloy Seamless Pipe, Nickel Alloy Electropolished Pipes, ASME SB 622 Nickel Alloy Welded Pipes, Nickel-Cobalt Alloys Pipes, Nickel Alloy High-Pressure Pipes in Mumbai, India
ASME SB161 Nickel Pipes Exporter, Nickel Alloy Hot Rolled Pipes Supplier, Nickel Alloy ERW Pipes, Nickel Alloy EFW Pipes, ASTM B161 Nickel Alloy Hollow Pipe Stockists, Nickel Alloy Cold Rolled Pipes, Nickel Alloy Hexagonal Pipes Provider
Leoscor Alloys is a market leader for the manufacture and sale of Nickel Alloy Pipes that match international standards. We have a wide inventory of these pipes, commonly termed as high-temperature pipes. Our stock is characterized by superior pitting resistance and impressive surface finish. The stock includes Nickel Alloy 200, 201 grades. You can choose from single random, double random or custom length.
Our Nickel Alloy Seamless Pipes and tubes can be confidently used in such industries as oil refineries, sugar mills, fertilizer and chemical plants, and petrochemical industries. Our Nickel Alloy EFW Pipes and Nickel Alloy ERW Pipes are available in multiple shapes and forms including round, square and rectangular.
Nickel Alloy Grades 200, 201 are made up of minimum 99 percent nickel in addition to other elements, iron, manganese, silicon, copper, and carbon. The difference between Ni201 and Ni200 is in carbon quantity (the former has .02 percent maximum while the latter permits a maximum of 15 percent). Both alloys have brilliant resisting power to caustic alkalis, and high conductivity (thermal and electrical).
Nickel Alloy Welded Pipes from Leoscor Alloys are competitively priced just as our other Nickel Alloy Pipes are. Feel free to send us a query for more product information.
Welded Nickel Pipes, Nickel Bush Hex Pipe, Nickel Alloy 200 Pipes, ASME SB161 Nickel Alloy Cold Drawn Pipes Exporter, Nickel Alloy Square Pipe, ASTM B161 Nickel Alloy 201 Round Pipes, Nickel Alloy Rectangular Pipe Wholesaler, Stockholder in India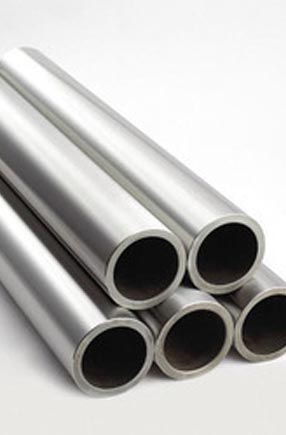 OUR RANGE OF NICKEL ALLOY PIPES