Alloy Steel Pipes Manufacturer & Exporter
Most Prominent Dealers & Exporters of ASTM A335 Alloy Steel Seamless Pipe, Alloy Steel Welded Pipe, AS Electropolished Pipes, ASME SA335 Alloy Steel Pipes, AS Chrome Moly Pipes Supplier, Alloy Steel High Pressure Pipes in Mumbai, India
Alloy Steel Pipe Stockist, Alloy Steel ERW Pipes, AS EFW Pipe Exporter, Alloy Steel Hot Rolled Pipes, Alloy Steel Hollow Pipe Stockists, Alloy Steel A335 Rectangular Pipes, Alloy Steel Cold Rolled Pipes, Alloy Steel Hexagonal Pipes Provider
For reliable Alloy Steel Pipes made using state-of-the-art equipment, look no further than Leoscor Alloys. Our Alloy Steel Seamless Pipes stand out in their toughness, yield strength, high senility, corrosion resistance, and fatigue and wear resistance. Whether you need them for your heat exchangers or boilers, process instrumentation or general engineering, we have a custom solution for you. You can choose from among these outside coating options – black painting, galvanized finish, anti-corrosion oil or as per your individual requirement.
Our Alloy Steel Pipes strictly adhere to international specification standards for carbon steel forgings having piping applications. They are ideally suited for cement plants, oil refineries, vehicle, and petrochemical industries.
Our Alloy Steel Welded Pipes have carbon in them along with considerable amounts of metals such as nickel, silicon, molybdenum, chromium, vanadium, and tungsten. They also have minute quantities of such elements as sulphuric, phosphorous and silicon. You can choose from different pipe ends and thicknesses.
Our Alloy Steel ERW Pipes are available in a variety of shapes and forms including round, square, rectangular, hollow, oval, and polished. Our Alloy Steel EFW Pipes are easy to fit and of a reliable design.
To know more about our Alloy Steel Pipes or for a pricing query, please do call us.
ASME SA335 Alloy Pipe Suppliers, Alloy Steel Custom Pipe, Alloy Steel Cold Drawn Pipe Exporter, Alloy Steel Square Pipe, AS Pipes Dealer, ASTM A335 AS Round Pipes, Alloy Steel Rectangular Pipe Manufacturer, Stockholder in India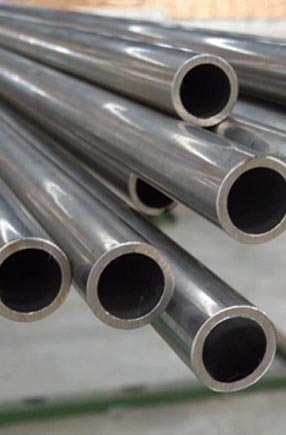 OUR RANGE OF ALLOY STEEL PIPES